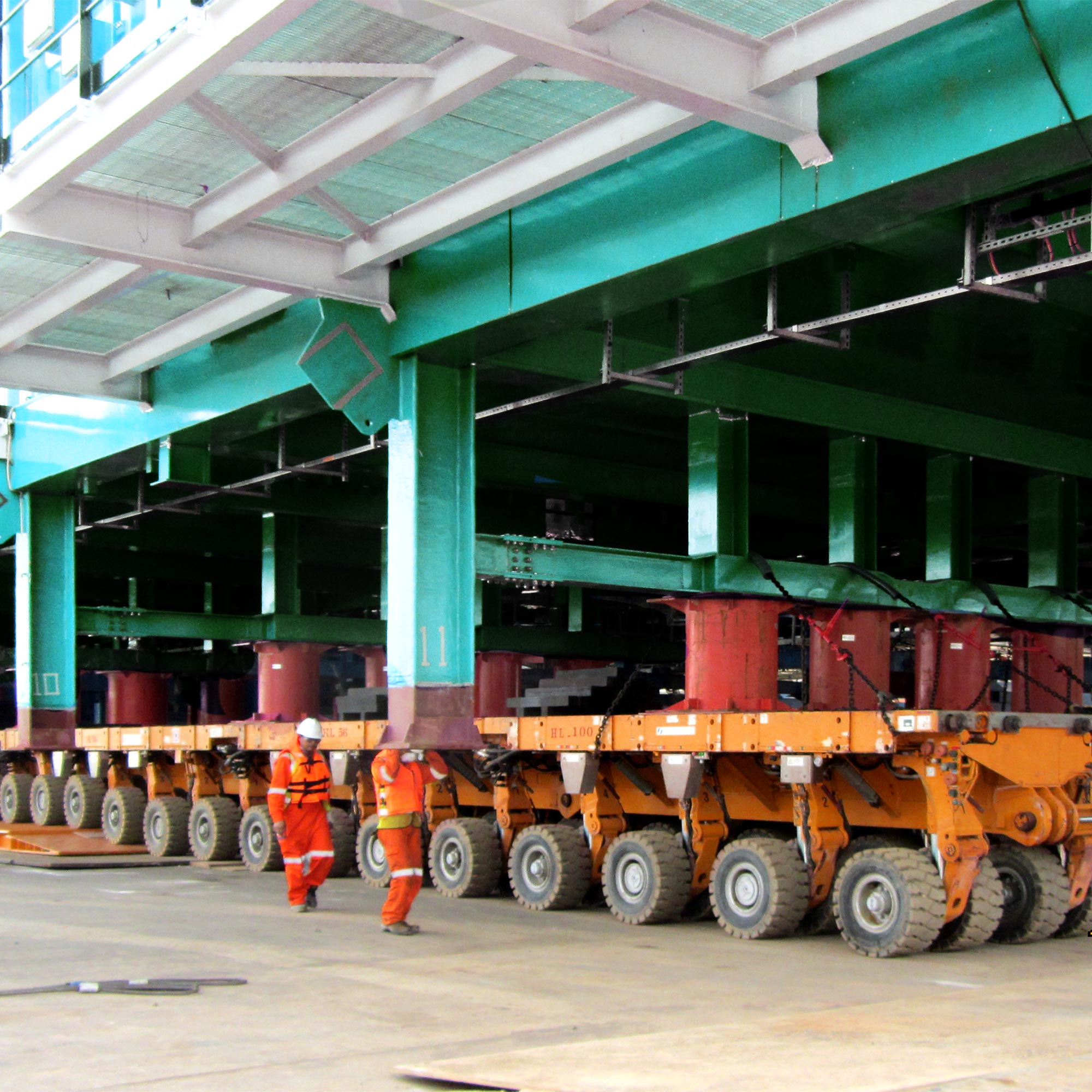 EPC-M Group Company Profile
EPC-M Group is established with Waterfront Fabrication Yard Facilities, professional management and Strong Project Management Teams to execute O&G Process Module Projects profitably, with HSE Target of Zero Lost Time Injury (LTI), good quality control and on-time delivery to meet customers' requirements for the module EPC companies.
With the strong support from the network of the FPSO Industry and good relationships with Customers, Fabrication Yards, Sub-Vendors, Contractors, Equipment Specialists, Technology Holders, Specialist Craftsmen, Logistics and Supply Chain, we are set to provide Engineering, Procurement and Construction Management Services.
As a natural progression, in the Decarbonization Transition Journey, we are also Developing Renewables, Green Hydrogen and Green Ammonia Projects With Local Partners.
In Partnership with International Green Hydrogen Technology Companies & Financiers, we support the projects through Feasibility Studies to accelerate the Project Financing, Technology Selection and Development process.
With a holistic approach incorporating the whole Eco system of Green Hydrogen including:
Renewables, Green Hydrogen Production, Storage, Various shipping options using different Green Hydrogen carriers.

Micro-grid and other applications

Blending Green Hydrogen to existing Gas Fired Power Plants.
For more information, download our high-resolution brochures here:
We have the Core Competencies in O&G Process Module Fabrication with Access to Waterfront Fabrication Yard facilities including teams for:
Health, Safety, Environment (HSE)
QA / QC
Process Design
Detailed Engineering
Shop Drawings
Construction
Project Management
Procurement
Logistics
Business Support
HSE Policy
EPC-M Group places great importance on and takes responsibility for the Health and Safety of its employees.
We act in accordance with the applicable statutory and international standards regarding environmental protection, and seek to conduct fabrication of oil and gas equipment in manners that avoid harm, injuries and accidents to our employees and the Environment.
Comply with relevant authorities, standards and statutory requirements for HSE

Control hazards and take the best possible precautionary measures against accidents

Provide training and ensure that employees are educated in health and safety issues

Use an occupational Health, Safety & Environmental management system

Minimise environmental pollution and make continuous improvements in environmental protection

Ensure that employees are suitably trained, adequately instructed and supervised in their duties, in the safe use of equipment and materials and in the correct disposal of scheduled waste
It is EPC-M Group's requirement that every employee and personnel working with us appreciates and complies with our HSE policy.
Partnership Capabilities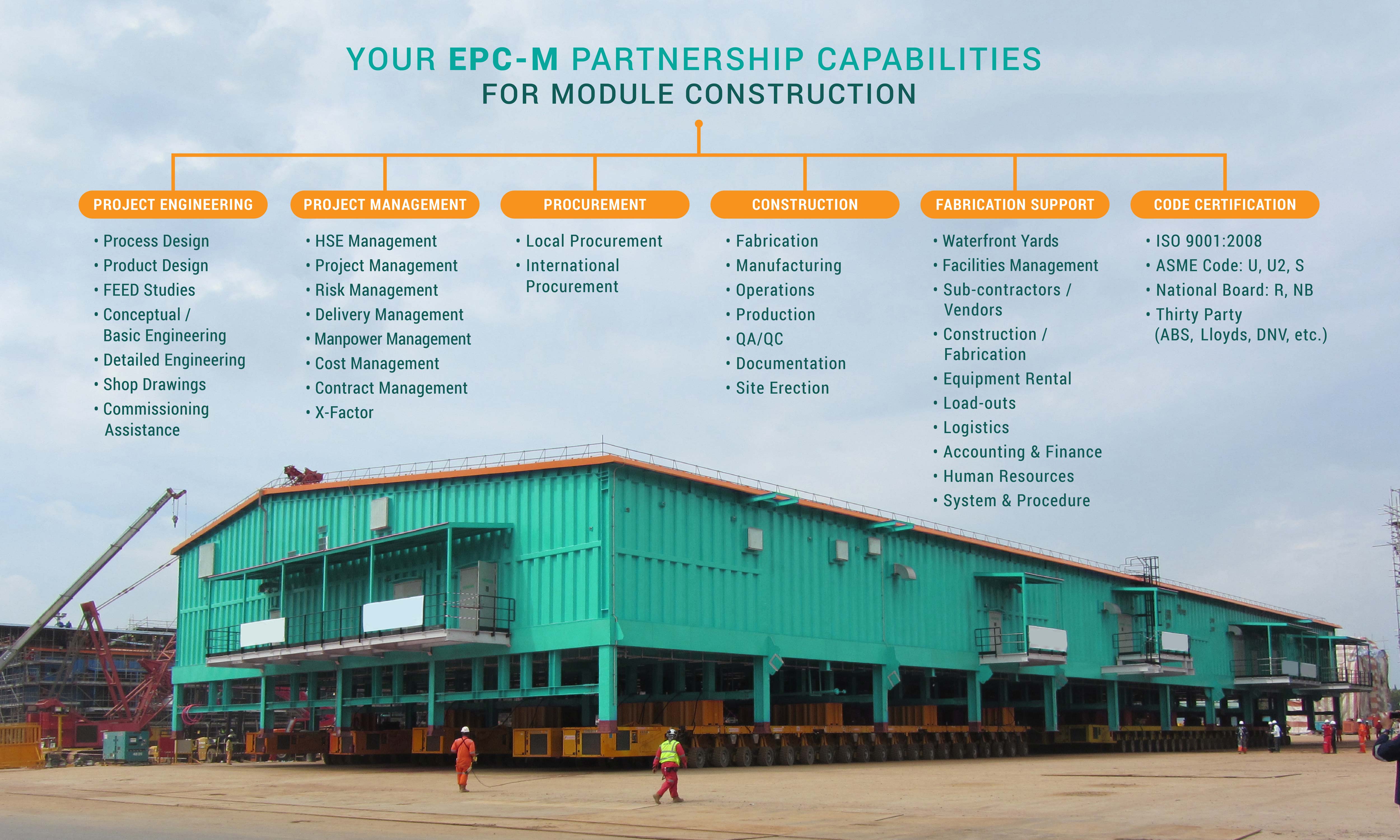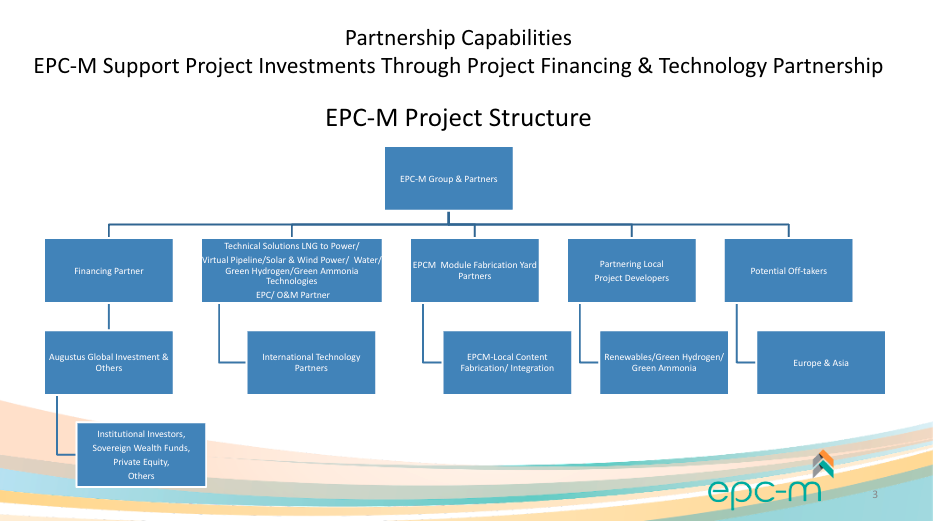 HSE Target-Zero Loss Time Injury (LTI)
Having High Health / Safety / Environment Awareness
Accident Prevention Culture
Honesty
Integrity
Meeting Quality Requirements
Achieving On-Time Delivery
Achieving Cost Control and Profitability Targets 
Prevention Of Inefficiencies & Profit Leakages § Management With The Heart, Not Just The Head
Motivating members to giving the best efforts work culture
Appreciation Of Efforts & Contributions work culture
Having A Sense Of Achievement among Team Members
Customer Satisfaction
EPC-M Group Structure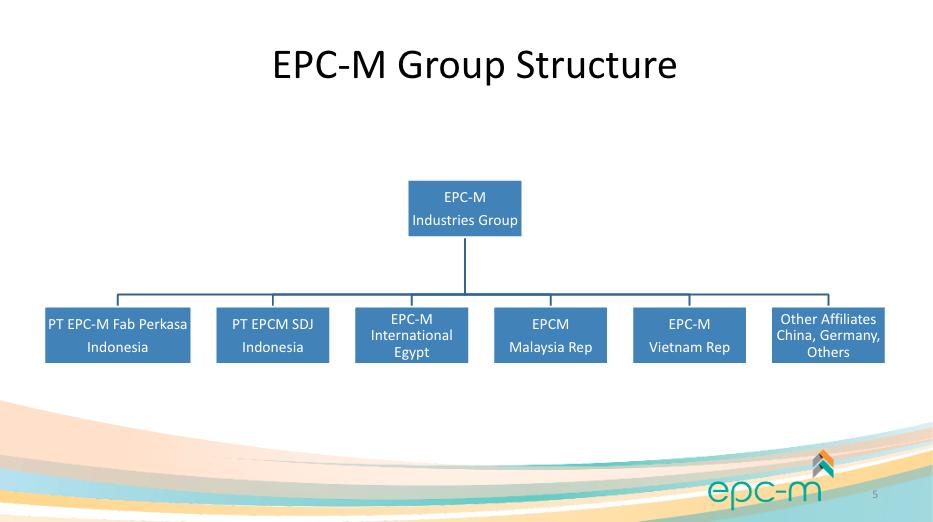 Your Preferred Fabrication Partner
EPC-M Group provides EPC-Management Services and access to Waterfront Fabrication Yards For O&G Process Module Businesses, equipping you with:
Your Remote Fabrication Yard

Your Remote Fabrication Team

Fabrication of Process Equipment Packages

Module Construction

Fabrication of Other Related O&G Products
Our Fabrication Yards
Use of fabrication yards with waterfront access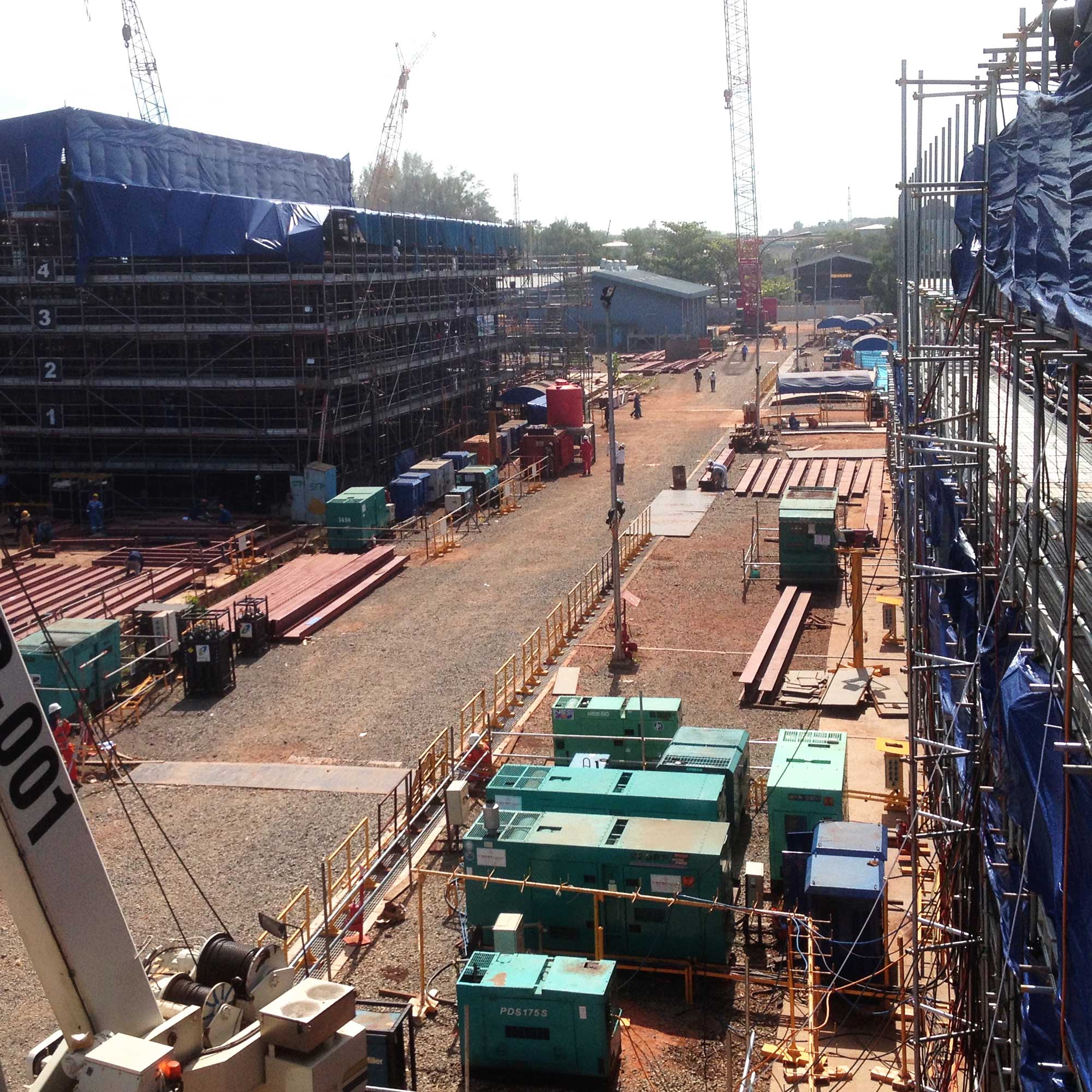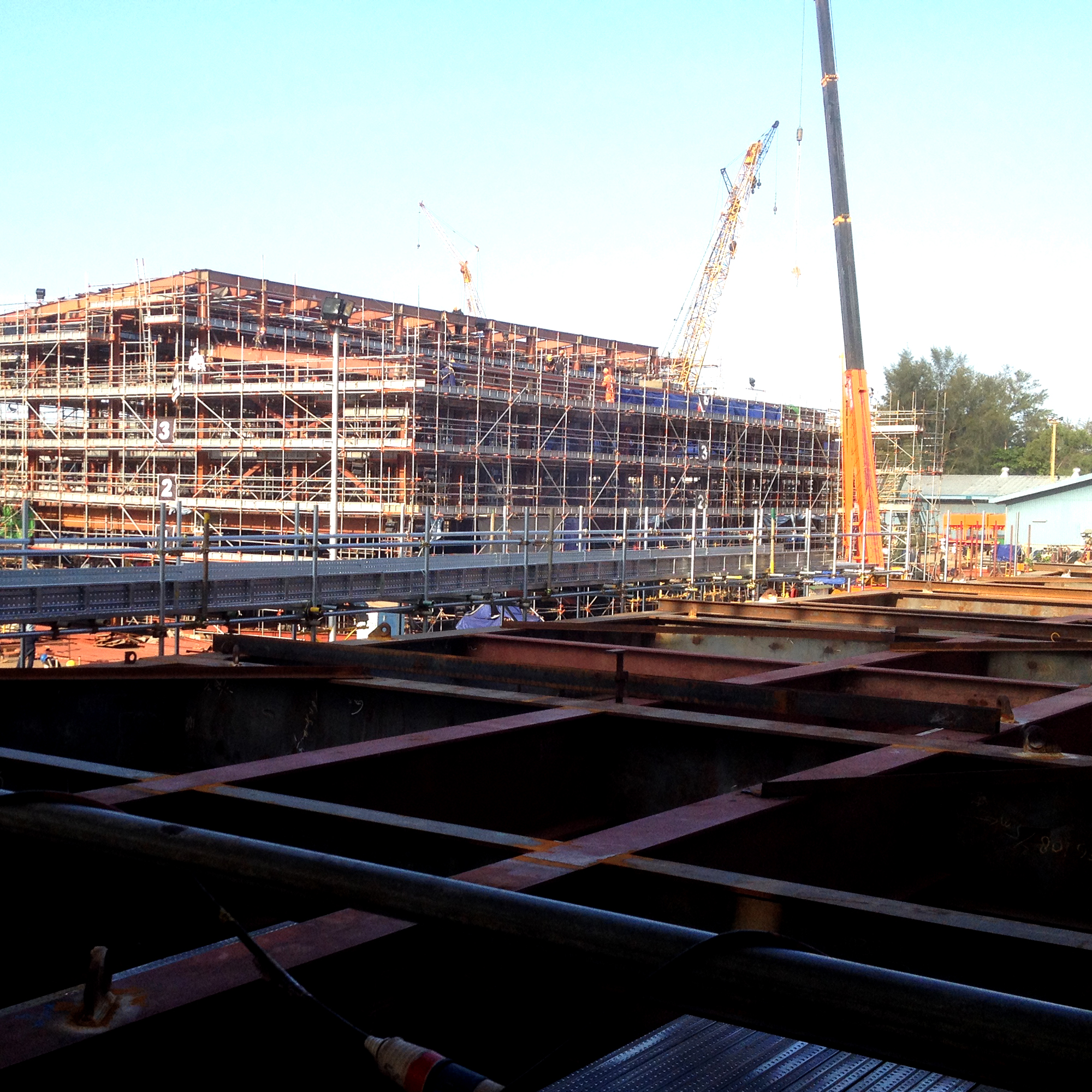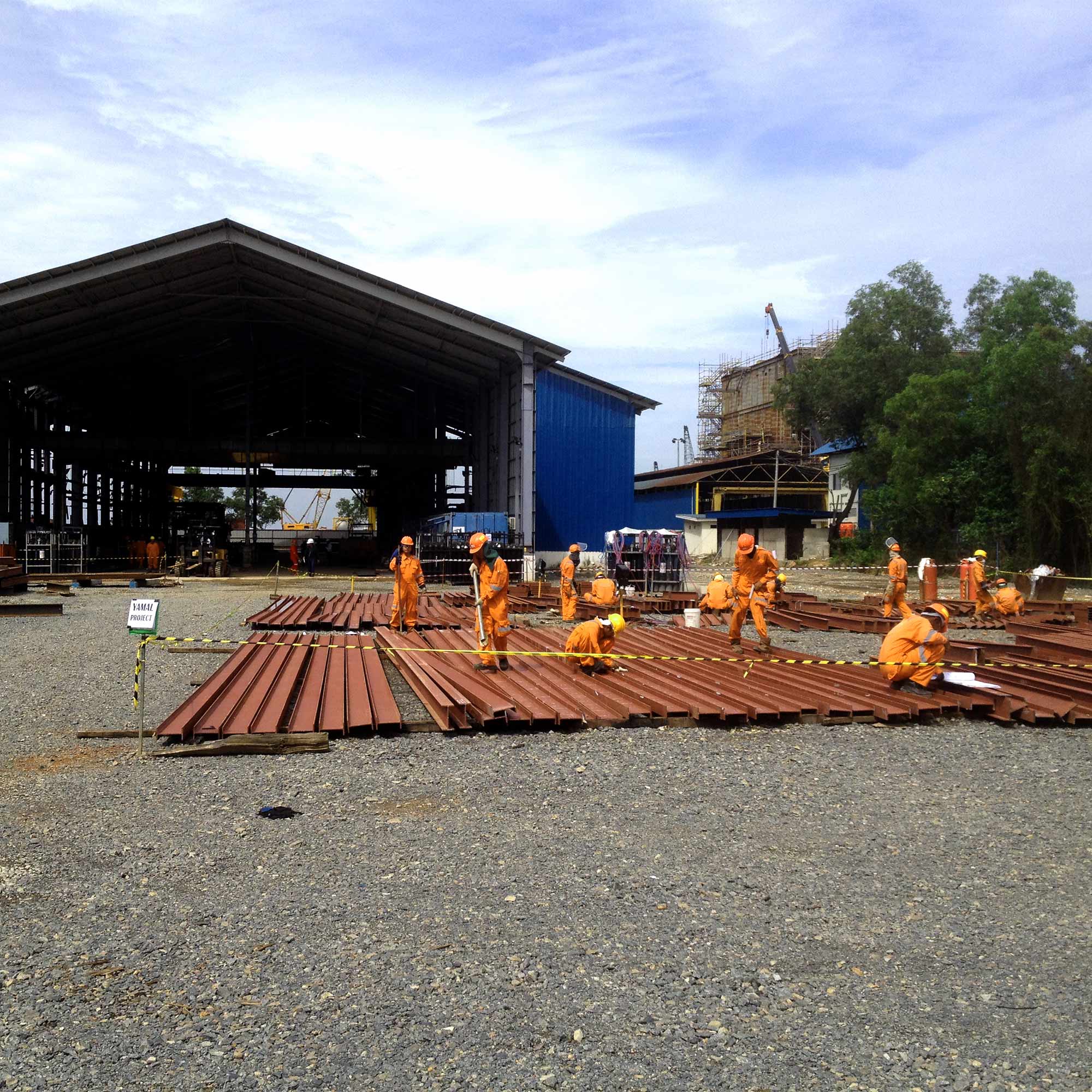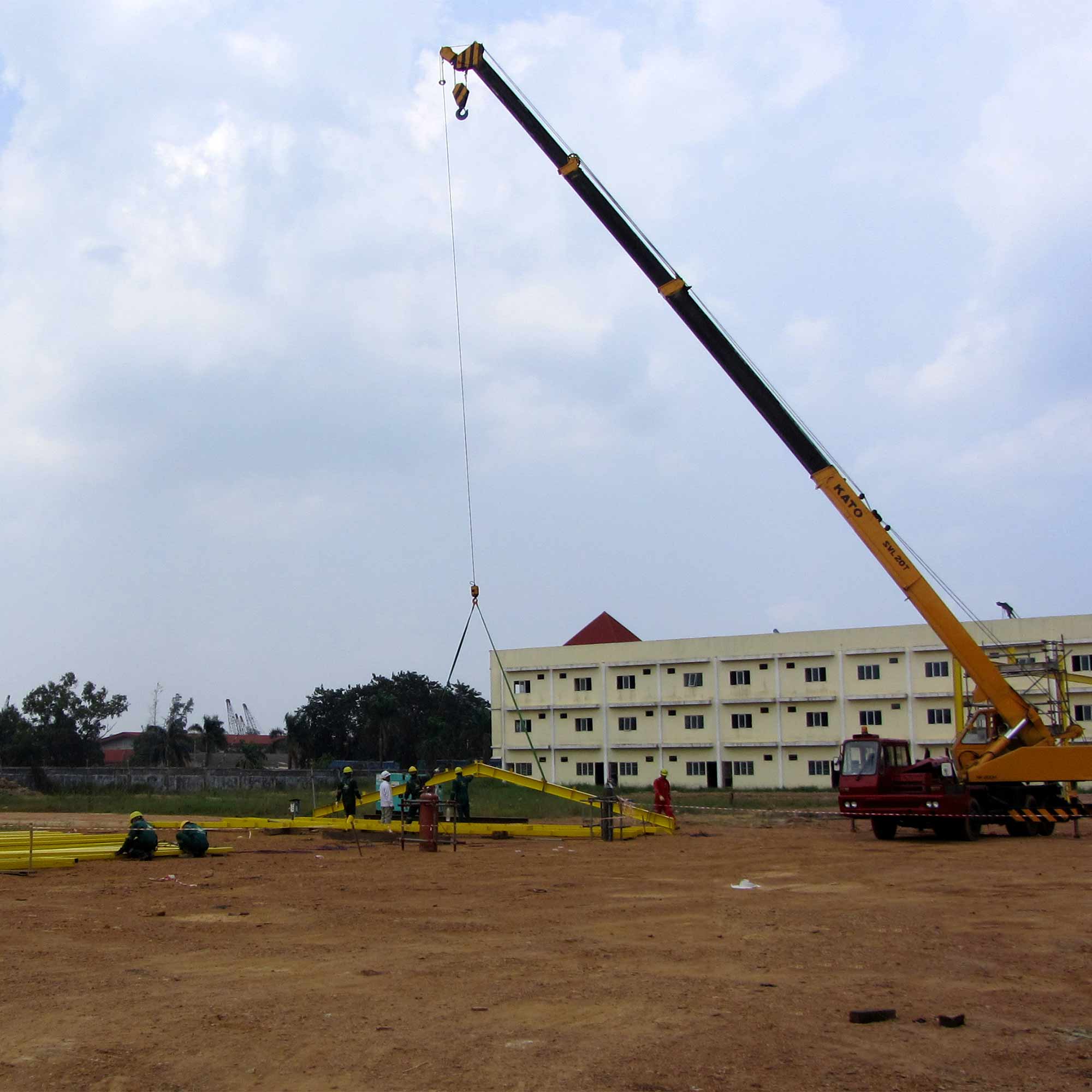 Specialist Skills
Multi-Discipline Fabrication Capability (Structural, Piping, HVAC, F&G Systems, Electrical, Instrumentation etc)

Capability to Fabricate Different Materials (CS, SS, Duplex, GRE 7000M etc)

Combining Engineering, Project Management And Procurement To Achieve Quick Delivery

Recovering Lead Time "eaten" by Engineering Changes via Night Shift

Flexible Engineering Capability To Accommodate Drastic Changes Made By Client At The Last Minute

Meeting International Codes (especially electrical testing)
Engineering Design Software
Process / Safety Design Software: HYSYS / FlareNet / HTRI / HTFS / Pipenet
Piping / 3D Modeling Design Software: CAESAR II / PDMS / PDS/NAVISWORKS / CLASH MANAGER / AUTOPLANT
Structural Design Software: SACS / STAAD / NASTRAN
Electrical Design Software: ETAP / Chimelite
Instrumentation Design Software: Intools / Instrucal
Mechanical Design Software: PVElite / CADVent / Carrier
Project Control Design Software: PrimaVera
EPC-M develops the following in-house capabilities:
Engineering
Admin & Finance
Detailed Engineering
Procurement
Process Evaluation
Shop Drawing
Construction
Front End Engineering Design (FEED)
Product Development
Project Management
Conceptual / Basic Engineering
Core Competency
Quality Assurance
Major Code Certification